Travel & Transport
Information about how to get to the conference and how to travel around Utrecht.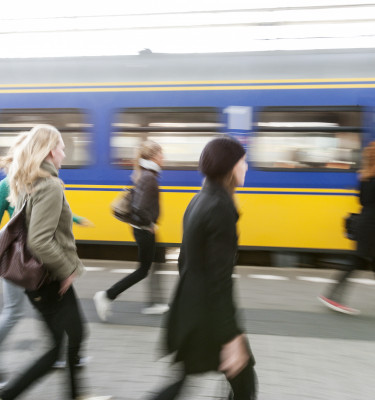 Schiphol airport
The nearest airport is Schiphol. It's super quick and easy to take the train from the airport to Utrecht. It is a direct connection and it will take you around 30 minutes. The price of an one way ticket is about 10 euros. 
Public transport
Since Utrecht is the central point for all trains in The Netherlands: all trains stop here! No hassle with parking, and within walking distance from the city centre. On an average weekday, there are 73 trains per day travelling from Utrecht Centraal to Schiphol Airport. Plan your train trip with the NS planner!
In the inner city of Utrecht you can simply take the tram or bus. City buses are entering the centre from all directions and an extensive network ensures that every distinct is easily accessible. Current information can be found at the 9292ov planner.
For tourists, the easiest way to ride on trains is to buy single tickets or day returns from the yellow vending machines which you'll find at train stations. Locals use a chip card which they charge with money, but since you need a minimum of €20 balance on it, it is not useful for tourists.
Going out for dinner
There are hundreds of restaurants in Utrecht. And because of all the competition, it's hard to find one that isn't good. These are a few of our favourites:
Most restaurants in the "Drieharingenstraat" or "Zakkendragersteeg". These two narrow parallel streets are packed with restaurants and almost all of 'em are good. 
Some restaurants at water level, at the Oudegracht. A good one is Beers & Barrels for amazing pub food prepared on green eggs. For great burgers, go to "Meneer Smakers" (several locations in the center).
Vegetarians love Gys, An-An, Saigon (all on the Voorstraat), BROEI or The Green House (close to the venue).
Bike
Cycling is very popular in the Netherlands! Most paths are completely segregated from motorised traffic. Utrecht's many bicycle lanes make it perfect to get around by bike. You can easily rent a bike to explore the city!