Become a live-stream attendee
While we rather have you attending our event in Utrecht, we realise there are several reasons that you can't attend due to costs, parenting, work/life balance. This ticket will give you private access to the high-quality streaming URL's.
Read on, what you can expect
First row view in 1080p
Pause when you want for a pee-break (or watch on your smartphone during that break)
Ask questions to the speakers
Rewind to make sure you got all the punchlines
Compose your custom schedule
Practical
The only thing you will need is a Google account for verification and a good internet connection. 
On each of the two days, we have two rooms where sessions will be happening simultaneously. Each room has it's own live-stream. You will get access to a document with an overview of all the different live-streams URL's, for each day that you bought a live-stream ticket for. 
Note that the live-stream times are in CET (Central European Time). If you want to watch a live-stream afterwards as a recording, or with some delay that's possible too! This means that from whatever timezone you are from, you'll be able to mix & match sessions however you feel like!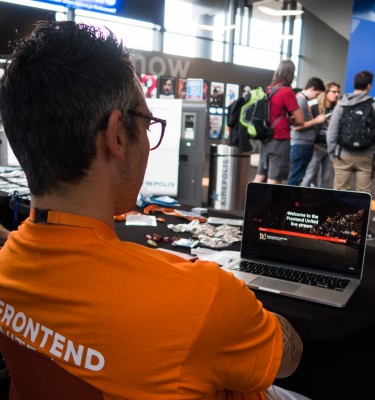 Pricing
Live-stream tickets are available for €92,50 per day.
Live-stream tickets are not free for a few reasons. The major one is because we don't want people to stay at home. We are creating Frontend Re-United events all across the globe in our hope that people get together in real life to make new connections. 
We want to stay a low-cost conference for our in-person attendees. And all the bits help to keep the quality amazingly high and costs ridiculously lean (compared to any other conference with similar quality of speakers).
Ask questions to the speaker?
We only allow questions through an online platform: Sli.do. This means that you can participate from on your couch for each session that you are following live.
Go to slido.com from your phone / tablet / laptop
Enter the eventcode: #frontendunited
Choose the correct room from the top menu
Ask questions / upvote other questions / participate in the polls
Please remember to choose the right room, otherwise your question will be asked to the wrong speaker. Also make sure the session is still on. The earlier a question is asked, the more people have the chance to upvote your question.
Getting social
We are hosting 14 different Frontend Re-United events during Friday and Saturday. Go ahead and visit the page of the Re-United event closest to you, and connect to their linked social accounts. 
The hashtag to use is #frontendunited and make sure you are following the same time-zone-adapted schedule as them to be talking about the same sessions! :-)
Quality of the video
We are working together with a professional live-stream-team, and during each session they will switch between a close-up of the speaker and the slides.
This means that we guarantee that the speaker won't be shady and dark, invisible for you to see, and you will have likely a better view of the speaker than most of our attendees.
An example of how that looked last year