Practical information about and around Utrecht
Utrecht is one of the Netherlands' oldest cities, with a compact medieval centre set out around canals unique to the Netherlands: there's a lower level where warehouses were located in the 13th century, giving the canals a split-level character and meaning that diners and drinkers can nip off the street and enjoy a snack or a drink down at water level.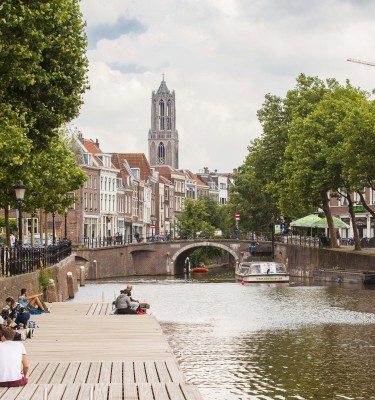 Cultural activities
Do read this amazing blog post (which we agree with 100%).
It covers some more restaurants and coffee places, but also some nice shops and sight seeings.
Going out for dinner
There are hundreds of restaurants in Utrecht. And because of all the competition, it's hard to find one that isn't good. These are a few of our favourites:
Most restaurants in the "Drieharingenstraat" or "Zakkendragersteeg". These two narrow parallel streets are packed with restaurants and almost all of 'em are good. 
Some restaurants at water level, at the Oudegracht. A good one is Beers & Barrels for amazing pub food prepared on green eggs. For great burgers, go to "Meneer Smakers" (several locations in the center).
Vegetarians love Gys, An-An, Saigon (all on the Voorstraat), BROEI or The Green House (close to the venue).
Going out for a drink
Since Utrecht is a student city, it has countless places to have a drink (or two). Here are some highlights:
Cafe Olivier is always nice. They have hundreds of beers, and the location is an old church. The acoustic is terrible, so don't mind that you have to scream to understand each other.
There are a few nice spots at or around the Janskerkhof square, such as "Cafe Hofman" or "Nieuwe Dikke Dries".
The restaurant at TivoliVredenburg called "Het Gegeven Paard" has a large terrace and live music in the evenings.
For cocktails, go to "Behind Bars". 
And, if all closes, you can always go to shooters bar "Chupitos" (open until 5am).